Welcome...

---
KernelCAD components are invaluable Software Development tools for creating powerful 3D and CAD-enabled, high impact applications. They can add 3D functionality in a matter of minutes and custom interactive CAD functionality in a matter of hours.

---

The concept of KernelCAD Framework is to provide a 3D/CAD tool at a high level where no significant knowledge of the subject is required. There are no compromises in versatility or performance.

---

With the unique functionality of KernelCAD software 3D solid modelling becomes accessible and affordable to anyone. Interactive 3D views (rotate, zoom, pan) can be added to numerous types of documents as easily as adding a picture. See KernelCAD View for details.

---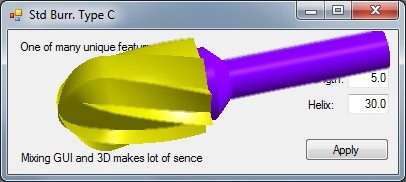 View Site Map